They say that you shouldn't judge a book by its cover and, in the case of sex toys, you should never judge a toy by its packaging. Of course, it's always satisfying to have a well-designed box but my bottom line is always "does this toy deliver mindblowing orgasms every time I use it?" If a toy does that, straight out of the box, then I'll keep it under my pillow and forget about the packaging it came in.
Despite this, I must confess that I made some reckless assumptions about Mr Hook when I held him in my hand for the very first time. Now that we've been intimate on numerous occasions, my assumptions have proved worthless and I can fully appreciate just how he earned his name. Believe me when I say that he deserves it.
My definition of a great sex toy is quite simple: it has to be so effective and pleasing that I continue to use it long after the review of its quality has been written and published. This is very much the case with Mr Hook from Adrien Lastic.
Elegant, perfectly shaped and highly ergonomic, Mr Hook fits perfectly. It has 10 vibration settings that are powered by two individual vibrating motors that line up with the pleasure spots: One motor is in the shaft for the g-spot and there is another external motor to satisfy the clitoris. The removable and washable straps adjust perfectly to any size.
MATERIAL: 100% velvet touch silicone + ABS. Very pleasant to touch.
STRENGTH OF VIBRATIONS: Strong buzzy vibrations.
NOISINESS:  Silent, even on the strongest setting. Excellent if you live with people and discretion is important. However, get ready for some noisy orgasms.
USABILITY: very easy to use, easy to insert thanks to it's ergonomic shape. I didn't use it with the strap the first few times, however it does fit even better when wearing it. Mr Hook is ideal for handsfree masturbation although I did prefer using my hands to move the toy from side to side, lifting it and pressing it even more into my pubic bone. I also used it lying face down and grinding into the mattress, which was delicious. It's much too noticeable to wear in public, however, it's perfect for stimulation while you relax on the sofa or even during mundane domestic chores. I'm convinced that this could be a great toy for two girls to use together. Although I haven't been lucky enough to experience that for myself yet.
ORGASM-O-BILITY: Absolutely amazing. Mr Hook is giving me such intense orgasms that I just cant stop using it. I'm well and truly hooked.
PROS: strong vibrations throughout the whole toy, silent, intense orgasms,  can be used handsfree, USB rechargeable, ergonomic shape, soft texture.
CONS: I blame Mr Hook for all those unanswered emails and WhatsApp messages. Feeding an addiction does tend to swallow up a lot of time and stuff just doesn't get done.
IDEAL FOR:
stimulating the clitoris and G spot simultaneously,
handsfree masturbation so that use your hands for other things,
very demanding women,
using with another girl.
Discover more sex toys from Adrien Lastic at Lovehoney.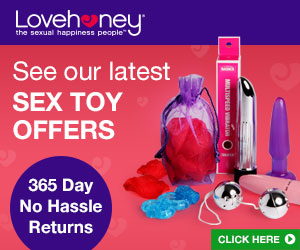 Check out my Sex Toy video review below!